About MMK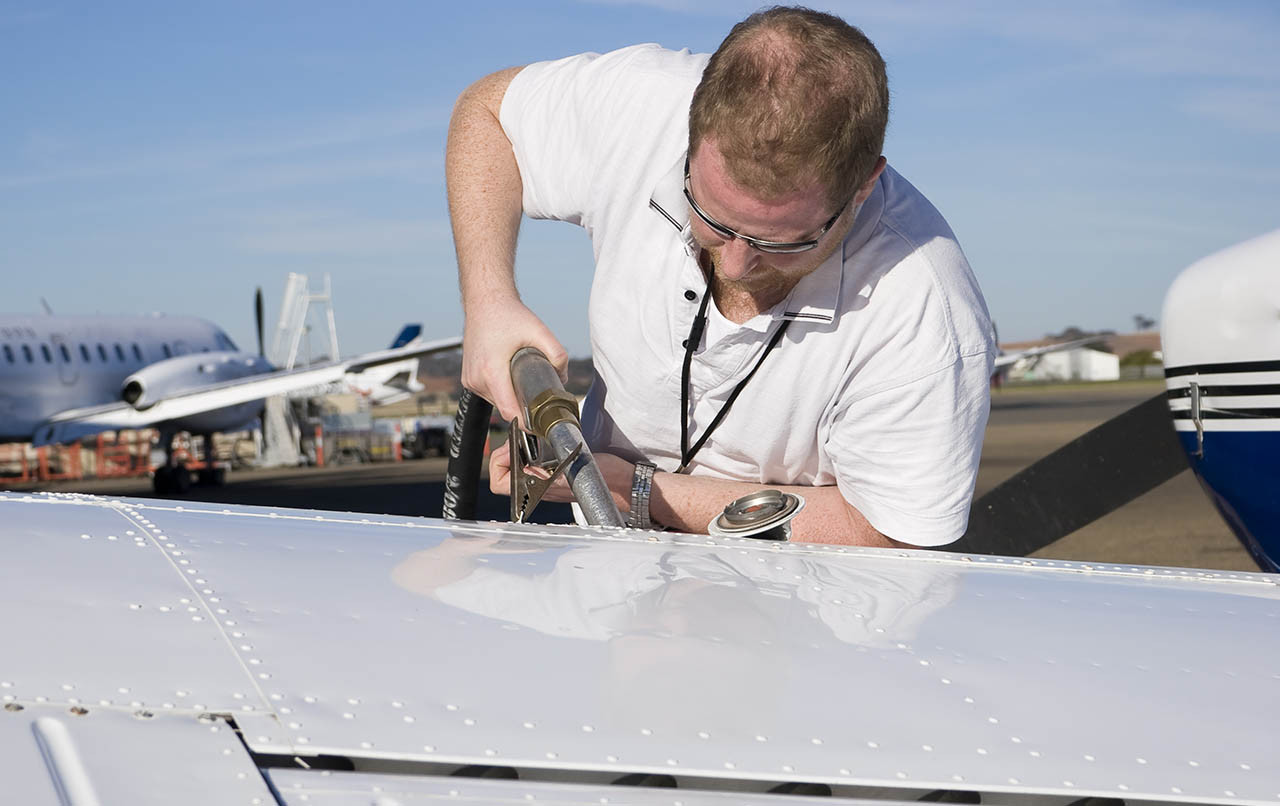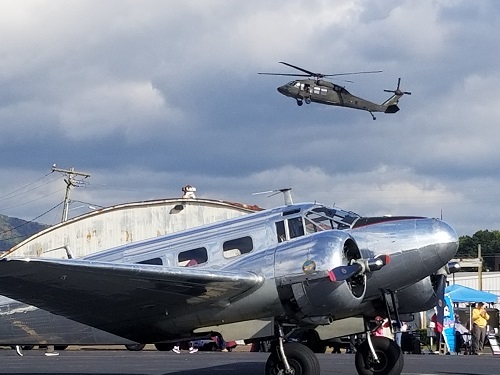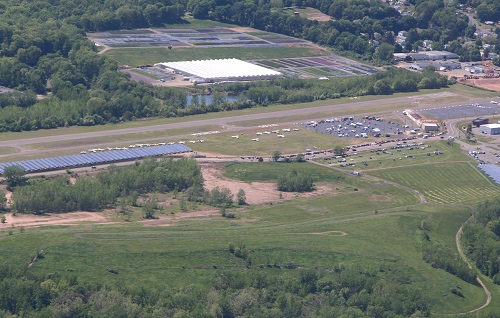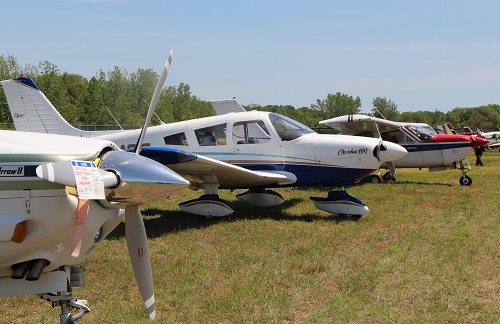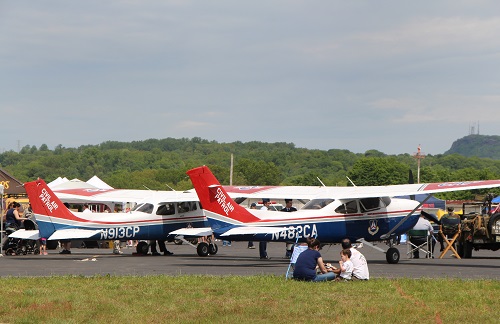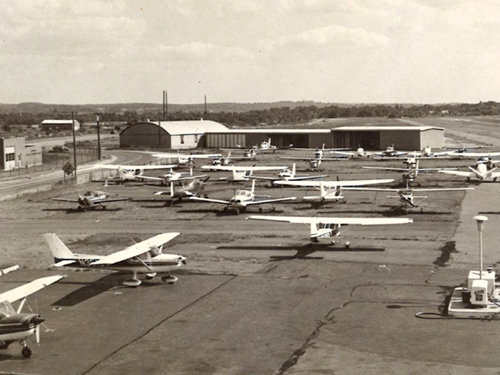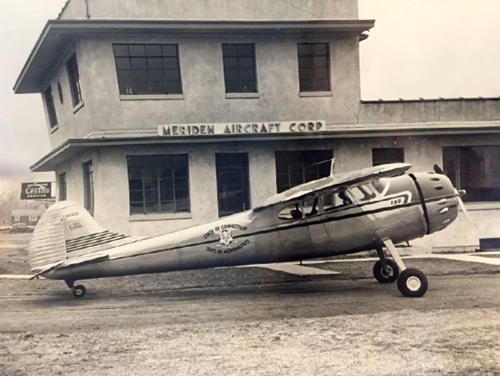 In the early 1900's, a 900' X 200' field bound on 3 sides by utility lines was originally the home of a trotting park and part of the Fallon farm. After a group of local business and aviation enthusiasts realized the locations potential it was designated as the city airport in 1928. A total of 9 aircraft other than those based on the field landed at Meriden Airport in its first year of operation.
One of the first documented photos at the original airport location was on August 14, 1919 when an aircraft advertising the 1847 Rogers Bros Silverware Company and L. Bamberger & Co (now current day Macy's Department Store) flew the first shipment of 125 pounds by air from any place in Connecticut.
In 1952 Meriden Airport was considered the best sod field in the state according to the CT Department of Aeronautics. The active runways at the time were North-South 3500', Northeast-Southwest 2800', and East-West 1300'.
Land was purchased from Wallingford at the south end of the field to expand the airport to 130 acres. More land was later purchased at the north end for a total of 157 acres. The grass strip was transformed to modern day standards and a 3100' X 75' asphalt runway was built that stretches North and South. Meriden Markham Airport has continually received City, State, and Federal funding for airport improvements.
Municipally owned and run by the City of Meriden, the airport provides an administrative terminal building open 7 days a week, a maintenance hangar, 1 shared 50'X50' box hangar, 10 48'X48' box hangars, 7 40-44' box hangars, 10 T-hangars, 1 private hangar, and 72 tie-down spots. Self-service Avgas 100LL fuel is available 24/7.
Meriden Airport is no longer the best kept secret in CT. Pilots from surrounding areas fly into Meriden to take advantage of our low fuel rates. Centrally located, it's convenient for businesses to use the airport for charter excursions. With GPS and VOR instrument approaches, both fixed wing and rotorcraft flight schools routinely use the airport for flight training. The Civil Air Patrol is active with cadet flight training and search & rescue training with the Silver City Squadron based at the airport. A full service maintenance facility and flight school are now operational on the field. In response to the demand for more hangars, the city recently built 4 new box hangars in 2016. The airport has hangar expansion under construction with 5 additional buildings that will accommodate 35-45 aircraft. The project will be complete mid-year 2020. We welcome pilots and friends to visit MMK.
Key Facts
Location
Operations
Comms
Runway 18/36 Info
FAA Identifier:KMMK
Airport use:Open to the public
CTAF/UNICOM:123.05
Dimensions:3100 x 75ft/945 x 23m
Elevation:103 ft./31.4 m (surveyed)
Activation:04/1940
WX ASOS:134.925 (203-639-9405)
Surface:asphalt, excellent condition
41-30-31.3730N/072-49-46.1220W
Sectional chart:NEW YORK
BRADLEY APP/DEP:127.8
Weight bearing capacity:Single wheel:30.0
41-30.522883N/072-49.768700W
Control tower: no
CLEARANCE DELIVERY:120.65
Runway edge lights:medium intensity
41.5087147/-72.8294783
ARTCC: BOSTON CENTER
WX AWOS-3 at OXC (14 nm W):132.975 (203-262-1190)
WX ASOS at HVN (15 nm S):203-466-6205
WX ASOS at HFD (16 nm NE):860-527-5837
WX AWOS-3 at SNC (16 nm SE):118.325 (860-526-1551)
Click here for more information
MMK Management
Constance Castillo - Airport Manager: Constance joined Meriden Airport in March 2014. She brings a wealth of FAA experience to the airport holding her Certified Flight Instructor, Commercial and Instrument Rated Pilot's License and having been involved in General Aviation her entire life. She is a Captain in the Civil Air Patrol and is qualified as a Transport Pilot, Mission Observer and Airborne Photographer for Search and Rescue. She is the past Vice-Chair and an active member of the CT Chapter of the Ninety-Nines, Inc. International Organization of Women Pilots. Constance grew up flying out of MMK with her parents who were both pilots and owned a Cessna170 based at MMK for over 50 years.
Fillmore "Fil" Olson-Front Desk: Fil joined the MMK staff in July of 2015 as a part time employee working weekends. He is a retired Army UH-1H Helicopter Pilot with 5-1/2 years of military service. He has spent the last 27 years in retail as a sales associate, lead receiver, department manager and assistant store manager. He also runs his own successful D.J. business. Fil has been married to his wife Cindy since August of 2013. He has two adult children (from a previous marriage), two adult stepchildren and three grandchildren. Fil's favorite pastimes include: Golf & Music